Archive for November, 2021
Looking to be a part of something bigger than her humble beginnings, Patrizia Reggiani (Lady Gaga) finds her ticket with Maurizio Gucci (Adam Driver), the son of Rodolfo Gucci (Jeremy Irons), and, half of the Gucci family legacy. Once married, Patrizia's hunger for power, fortune, and fashion begins to threaten the entire Gucci family, a sense of ambition with a truly reckless potential, but really, how far can this actually go?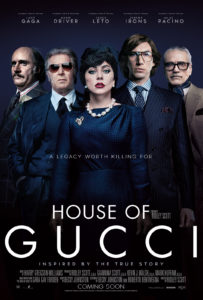 Directed by Ridley Scott and Written by Becky Johnston, Roberto Bentivegna, and Sara Gay Forden, this reenactment of the Gucci family demise and resurrection plays out as a dark procedural comedy proving once again, sometimes life is stranger than fiction; and, tragically and unapologetically hilarious at times. With the ensemble of heavyweights gathered here, there's more than plenty of method acting to go around, nods to Jared Leto and Al Pacino for their show stealing father and son portrayal of the "other" half of the Gucci family to boot. The film's overall construction, feel and texture carries more of the weight fans of the Director have come to expect with the misfire of The Last Duel still ringing in our ears. Although the piece does run long at two hours and thirty seven minutes, it's hard to pick what could have been edited out. Still, notable for it's entire composition and experience, House of Gucci, Rated R, is a win for the holiday weekend.
Comments Off

on House of Gucci
Now just a footnote in history, it's been 37 years since the Ghostbusters saved Manhattan, subsequently all of the team have since disappeared into the tapestry of life; but, when financially challenged Callie (Carrie Coon) and her two kids Trevor and Phoebe (Finn Wolfhard and Mckenna Grace) learn of an inheritance of their family estate in the midwest, it's wagon's ho! Upon arrival in Oklahoma, the family quickly discover their recently deceased and estranged Father/Grandfather was more than just a paranormal eccentric, he was in fact Egon Spengler, founding member of the Ghostbusters– more importantly, up until recently he had been continuing his research and work into the paranormal. Now with a strange darkness looming, it's apparent it will take the next generation to save the world…again.
Written by Gil Kenan, Jason Reitman, and Dan Aykroyd and Directed by Jason Reitman, this nostalgia driven revisitation to the world of Ghostbusters comes with oodles of ectoplasmic reminiscence holding true to the original designs, FX, scoring, and concepts put forth in Ivan Reitman's Ghostbusters from 1984; a risky and challenging move in attempting to placate the fans of the franchise without overdoing it and without alienating newcomers at the same time, to that end, success, mostly. With the majority of the film riding on the young cast's shoulders, Reitman does effectively transition from old guard to new while keeping the flavors and traditions the same, consider that for a win as the new proves they're ready to hold down the fort. Oddly enough, it's when the original cast members reprise their roles that the film loses strength and steam, too much kitsch to finish the spell perhaps. Regardless, there's still plenty to enjoy, just don't cross the streams and look into the trap. oh, and by the way, stay through all the credits….all of them. Ghostbusters: Afterlife is rated PG-13.
Comments Off

on Ghostbusters: Afterlife
Coached initially by their father, Richard (Will Smith), Venus and Serena Williams (Saniya Sidney and Demi Singleton) meteoric rise to the top of the tennis world would be fraught with adversity and challenges from expected and unexpected angles. But, with their eyes on success and their father's "plan," the two would eventually blow the lid off the game as it's understood. This is a glimpse of their childhood.
Written by Zach Baylin and Directed by Reinaldo Marcus Green this autobiographical portrayal of the Williams family is straightforward enough, but, it's Smith's performance as Richard that sends this otherwise ordinary sports feature to the next level. And, while the overall outcome is already a known quantity, getting to know the motivators and supporters of the Williams sisters success is a fascinating, and sometimes cringe inducing tale worth examining, this is where the magic is hidden. Although the film runs a bit long at two hours and 18 minutes, if you're looking for your feel good film for the holidays, you've found it. King Richard is rated PG-13.
Comments Off

on King Richard