Archive for July, 2022
In the mountains of California the Haywood family of horse trainers discover they're not alone at their remote country ranch setting. For OJ (Daniel Kaluuya) and Emerald (Keke Palmer) the discovery could be double edged, fame and fortune or certain death, seeing and being seen could both have drastically challenging implications. Will the Haywood family legacy live on or be lost to history?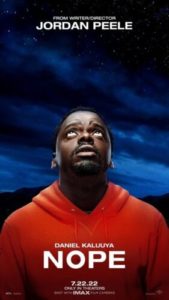 Written and Directed by Jordan Peele this Sci-Fi/Horror adventure into the unexplained serves as another win for Peele in his subtext rich examinations on society. Concepts of being seen and what it is to be minimized, marginalized, and belittled on multiple levels all through the guise of an extraterrestrial visitor, to that end a wickedly smart commentary. Although, perhaps not the most complete in connecting all of the dots or concepts for the viewer, which could arguably be done for artistic interpretation, but could also be seen as incomplete and lacking payoff. Regardless, there's plenty to chew on and digest conceptually, and, with visuals from cinematographer Hoyte Van Hoytema along with ethereal and moody scoring from Michael Abels this winner for the summer promises to stick with the viewer and spur discussion afterward. Running two hours and 15 minutes Nope is rated R.
A young woman, Kya (Daisy Edgar-Jones), growing up in the swamps of the deep South is forced to raise herself after a series of unfortunate events leaves her alone at the family homestead. Considered an outcast to the public Kya faces further ridicule and accusations of murder when a dishonest suitor, Chase Andrews (Harris Dickinson), turns up dead. Clearing her name in society and the eyes of the law will take the kind guidance of lawyer Tom Milton (David Strathairn), but, will the efforts be enough, or will Kya lose everything she's ever worked for including her freedom?
Based on the wildly popular book by Delia Owens with Screenplay by Lucy Alibar and Directed by Olivia Newman, this dramatic legal whodunit unfurls with hints of Matlock, Perry Mason, and Columbo all through the eyes of a woman challenged and unaccepted by society successfully commuting viewers from start to finish in what feels to be a genuine and "rewarding enough" story. Albeit, the sentimentality and overall feel has a particular Hallmark Movie quality, but, embracing that, there aren't massive false steps along the way, and, while some may be hoping for a barn burning hot romance, this lighter romance and heavier drama has enough heart to keep things interesting. Solid enough for a matinee this two hour and five minute journey doesn't overstay welcomes either, Where the Crawdads Sing is rated PG-13.
Comments Off

on Where the Crawdads Sing
Disillusioned by his own god, Gorr (Christian Bale), is empowered by an ancient sword of darkness and sets out to slay all other gods in the universe– including Thor (Chris Hemsworth). Wise to his challenger's plight, Thor must call upon the help of his friends including Valkyrie (Tessa Thompson), Korg (Taika Waititi), and his now ex girlfriend Jane Foster (Natalie Portman). But, will their efforts be enough to stop the God Slayer before his plans impact eternity?
Written by Taika Waititi and Jennifer Kaytin Robinson and Directed by Waititi, this summer time romp back to New Asgard is ripe with Waititi induced humor, often falling into the screwball and socially awkward variety, challenging the viewer to remember previous installments of Thor haven't been really "serious" Marvel films at all, in fact, far from it, this is no different. Although, it would appear Love and Thunder has been written with kids on the brain, or at least written with them in mind, given the sub-plots of several of the Asgardian children (played by the actual children of Waititi, Hemsworth, and Bale for example), it's a family affair, and the writing skews young. Meanwhile, it would also appear Axl Rose and rest of G n R crew are set to receive a decent royalty check for musical support, chuckles, eye rolls at the same time. Bottom line, is this the top of the pile, no, is this the bottom, no. It's fine, it's a feelgood chuckle fest with a few laugh out loud moments built on a large majority of existing pop culture with a saccharine finish. Not to be taken seriously, running just under two hours, Thor: Love and Thunder is rated PG-13.
Comments Off

on Thor: Love and Thunder