Pacific Rim: Uprising
It's been 10 years since the Kaiju invasion from another dimension was laid to rest on planet earth. Now, an aspiring inventor and Jaeger pilot, Amara Namani (Cailee Spaeny), finds herself in the right place at the right time to meet Jake Pentecost (John Boyega), son of Stacker Pentecost the famed Jaeger pilot who saved the world. More to her amazement, Amara is also enlisted in the Jaeger drift project, a project that's about to be replaced by drones; meanwhile, a new threat of Kaiju appears to be on the horizon. It'll be up to Amara and her colleagues led by Nate Lambert (Scott Eastwood), Mako Mori (Rinko Kikuchi), and Jake Pentecost to put an end to the threat once and for all, lest the Pacific Rim crack open once again– It's Morphin Power Time, Wonder Twins power activate!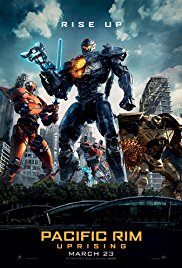 Directed and partially written by Steven S. DeKnight based on characters created by Travis Beacham (and heavily influenced by Mighty Morphin Power Rangers and Transformers) this calamity of Japanime meets live action comes in smashing like a wrecking ball dulling the senses of the viewer blow by blow in idiocy and Saturday cartoon style melodrama. Wildly uneven in its pacing and built upon a weak foundation to begin with, those craving a new experience or fresh story are destined for disappointment. As a retread of its predecessor and all Japanime before it, finding the thrill is a tall order for this 1 hour and 51 minute assault, an overstay of about 15 minutes that feel like a years. However, for all of its downfalls and detractors, credit and accolades are richly deserved for the visual arts department, technical elements and sound design work surprisingly well, it's too bad the rest of the story is designed to sap one's brain power and essence. Pass. Pacific Rim: Uprising is rated PG-13.