Johnny English Strikes Again
When a cyber-attack exposes the identity of all of MI6's undercover agents Johnny English (Rowan Atkinson) is brought out of retirement to track down a mastermind hacker, aided by his old agency friend, Bough (Ben Miller), the race is on to prevent a takeover of the free world, that is unless the mysterious Ophelia (Olga Kurylenko) doesn't stop him first.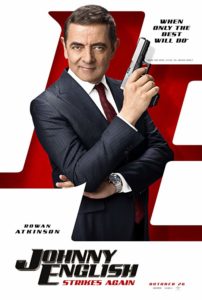 Written by William Davies and Directed by David Kerr this carrier virus for Atkinson's unique physical humor and comedic abilities doesn't exactly push the envelope of cinema or nutty spy hi-jinks; but, for fans of the Bean-esque tropes and tom foolery this breezy 88 minute trip across the pond will satisfy the most basic needs. It's simple, harmless, escapism with a few extra guffaws, mission accomplished. Entertainment dollar-wise, you're looking at more of a matinee value, maybe less if you can wait it out for rental later, so it goes. Johnny English Strikes Again is rated PG.