The wolfpack of Phil, Stu, Alan, and Doug (Bradley Cooper, Ed Helms, Zach Galifianakis, and Justin Bartha) is back to quietly celebrate Stu's last moments as a bachelor, this time in picturesque Thailand. Of course, life's never that simple and the best laid plans turn sour when three of the gang wake up in a dirt bag Thai hotel with no recollection of what happened the night before; recovering from a drug induced rage they'll need to retrace their steps through the seediest underbelly bars and brothels before Stu's wedding bells chime. But what does Interpol want with the mysterious Mr. Chow (Ken Jeong), where's Stu's soon to be brother-in-law, and seriously, a chain smoking monkey?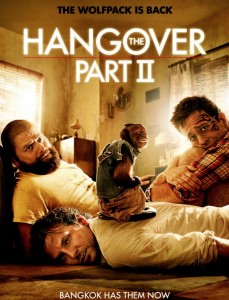 Let's not belabor this one, I'm not a fan. I was luke warm on the first Hangover, part II wows me even less, almost a note for note reproduction in a new location– the end. Except, the jokes and gags that were moderately funny the first time due to shock value just ring hollow and stale the second time. All
told, I think I laughed out loud once, chuckled a bit, and grumbled the rest of the time. Sorry dudes, the bridesmaids take this summer for wedding gag comedy. Maybe a rental later. The Hangover part II is rated R.