Along the French Riviera a group of notorious crime lords have been running the show for about 15 years. But, when prostitutes Anna, Gina, Maria, and Qiao (Loan Chabanol, Gabriella Wright, Tatiana Pajkovic, and Wenxia Yu) are pushed to their final breaking point, destroying the empire and self extraction is the goal. Of course, it'll take the help of a Transporter (Frank Martin) to really stay untangled and free. What are the odds this will go well? Slim.
Written by a committee of five and directed by Camille Delamarre this poorly plotted excuse of an Audi commercial laughably goes through the motions of an action flick sans the sharp choreography, cinematography, and quality editing to really sell the spectacle. Mercifully the film clocks in at 96 minutes which will leave plenty of time to hit the bars and slug down a few stiff drinks to forget what travesty you've just witnessed. Pass all round, The Transporter Refueled is rated PG-13.
Comments Off

on The Transporter Refueled
Seeking to reconnect with his homeland, Author and adventurer Bill Bryson (Robert Redford) decides to take on the seemingly impossible Appalachian Trail. Accompanied by salty and out of shape acquaintance Stephen Katz (Nick Nolte) the two set out to conquer mountains, fields, and streams. Finding out what's important in life will come from lessons on the trail, but, it's how the lessons manifest themselves that just might break these two.
Based loosely on the book by Bill Bryson this breezy romp through the woods contains tones of "Wild" mixing with "Grumpy Old Men;" fun, but sadly never reaching a genuine richness and instead relies heavily on intentional omission of detail, implying depth, but not actually giving clarity. As for story arc, that's a tough non-Euclidian shape to fathom this go round, rather a straight line seems to be the outcome. But, for folks looking to spend some time with a few warm hearted old men grumbling about their ailments in the forest, you could do a lot worse. Plus, Nolte's voice has developed into the perfect mix minus gravel, vocal cords surely steeped in fine oak barrels from the cellar's of kings, and that in and of itself is a treat. Probably best enjoyed on the Lifetime channel later, A Walk in the Woods is rated R.
Comments Off

on A Walk in the Woods
Four lifelong friends from North Hollywood striving to get out and make their mark on the world learn life lessons and the meaning of irrevocable. One mistake away from greatness or total failure Cole, Mason, Ollie, and Squirrel (Zac Efron, Johnny Weston, Shiloh Fernandez, Alex Shaffer) will have to bond together and break apart in order to succeed. For aspiring D.J. Cole that will mean finding his own voice while caught between friends, his idol (Wes Bentley), and his idol's girlfriend (Emily Ratajkowski); rising to meet the occasion will take everything he's got.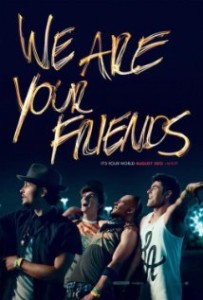 Directed and partially written by Max Joseph this relatively straightforward coming of age story sets up with some interesting promise and intelligent insight into the world of E.D.M. but ultimately falls prey to a plot line we've seen a million times before and better. Furthermore and sadly, at the film's apex an unfortunate ironic parallel is made, a much anticipated musical composition that's supposed to blow our minds crashes to the same fate as the plot line, what was interesting becomes just another dance track that thumps away, soulless. Still, the camaraderie and charisma of the ensemble keeps this film just above the horizon. Maybe a matinee but really a rental for mindless entertainment. We Are Your Friends is rated R.
Comments Off

on We Are Your Friends