It's been decades since Michael Myers (James Jude Courtney, Nick Castle) reign of terror on Halloween nearly took the life of Laurie Strode (Jamie Lee Curtis). Now, 40 years later to the day, he's back to terrorize the residents of Haddonfield; but, in Michael's absence, Laurie has been plotting a revenge of her own to protect her Daughter and Granddaughter (Judy Greer, Andi Matichak). Will her preparations be enough to stop this breed of pure evil?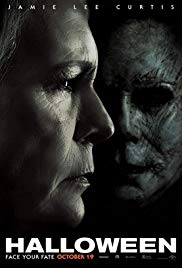 Directed by David Gordon Green and written by Green, Danny McBride, and Jeff Fradley, this true to original form and intent reincarnation of the Halloween franchise is packed with heavy doses of its creators DNA, paying love and homage to the first few sequels (A.K.A. The Debra Hill and John Carpenter era) and dismissing the latter 36 years of mediocrity, this is a good thing. The film follows the basic and traditional rules of horror and suspense to make for a squirm in your seat good time, especially for those with a passion for schadenfreude and those who view film as a lens or mirror to reflect our current social culture, oh, this can't end well. On the whole, the ensemble hits the tone just right and Lee Curtis finishes strong to bring this monster into the barn, so to speak. And, while the splatter level to the film isn't the highest per-se, it's also not entirely necessary to drive its point. You're in for a dark ride of nostalgia and stabbyness in a traditionally compact hour and forty five minute run time. You know you want to….. Halloween is rated R.
Comments Off

on Halloween
Examining the life and times of astronaut Neil Armstrong (Ryan Gosling) and the families involved in the 1960's space race, the events that would eventually lead up to the first men to walk on the moon is thrust into the spotlight almost fifty years since it happened on July 20th, 1969. This is their story.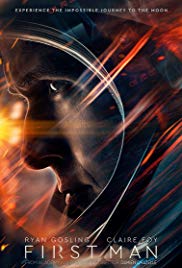 Written by Josh Singer based on the book written by James R. Hansen and Directed by Damien Chazelle, this cinematic work of beauty turns its thrusters on full to create some of the more stunning passages visually, sonically, and spatially for 2018, Houston we will have a problem if Cinematographer Linus Sandgren doesn't get a nod for his work and the Sound Department goes unheard come awards season, both are working overtime to produce true movie magic. In the acting department, the ensemble as a whole rings solid on all counts with particular applause for Claire Foy's performance of Janet Armstrong, the wife of Neil Armstrong, outstanding to the point that perhaps the film's title should be something different. In as much that while the overall film is about the space race, and Neil's personal journey, his demons and his struggles, it's also a film about family, humanity, and the people that hold the framework of our social cosmos together, in this case, Janet is that to Neil, let's note that. Bottom line the complexities and artistry's worked into this story mark another giant leap for Chazelle as Director, I smell awards around here somewhere, again. First Man is rated PG-13.
Comments Off

on First Man
Over the course of his entire life Forrest Tucker (Robert Redford) managed to escape from over 16 prisons and conduct an unprecedented string of bank robberies. Caught up in the pursuit are detective John Hunt (Casey Affleck), Jewel (Sissy Spacek), the woman who loved Forrest regardless, and his trusty sidekicks Teddy and Waller (Danny Glover and Tom Waits). This is his story.
Based on the New Yorker article Written by David Grann, this true story adapted for screen and directed by David Lowery is another fine proponent to the idea that truth can sometimes be stranger (or at least more interesting) than fiction. Shot and edited to appear period appropriate, Lowery's art of storytelling has a comfortable in its bones feel, adding just the right amount of suspense and whimsy to entertain and induce a chuckle at just the right moment. With a hugely talented and perfectly cast ensemble, all of the players are playing to their strengths with a particular nod to Redford for his inimitable charm and gentlemanly joi de vivre. This is an easygoing 93 minute ride and a fitting way for one of America's favorite leading men to take a bow as he moves his career off screen. The Old Man & the Gun is rated PG-13.
Comments Off

on The Old Man & the Gun