Orphaned and broken hearted, Lewis Barnavelt (Owen Vaccaro) is sent to Michigan to live with his uncle, a magician, Jonathan (Jack Black). But, shortly after his arrival Lewis learns his uncle is more than just a different breed of eccentric, Jonathan is actually a warlock living in a strangely charmed house; and, his best friend/next door neighbor, Florence Zimmerman (Cate Blanchett) is a powerful witch. Curious, Lewis begins the quest to enter the world of magic and wizardry only to also discover a terrible secret within the walls of the house, a doomsday clock. Now, with the hour of fate close at hand Lewis, Jonathan and Florence will have to combine their powers to thwart the evil that lies within, stranger still, what's the connection to the previous owner of the house, Isaac Izard (Kyle MacLachlan)?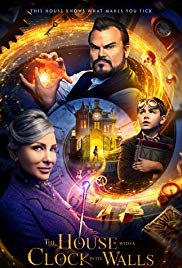 Based on the novels by John Bellairs, and directed by pulp and horror heavyweight Eli Roth this fantastic fantasy is a prime example of a film that harnesses the superpowers of all its parts to create something for good, a breezy and entertaining family friendly adventure that's easy to digest and just in time for the Halloween season. Tonally a bit askew at times with scripting and humor that aims high and low but largely on target, Roth is clearly having fun with his skill sets as a director capable of scaring the pants off you, but, doing his best to create a film that will equally entertain younger and older audiences just the same. A delightfully quirky and bumbling Black is in his element and perfectly suited for his role and Cate, well, Cate can do no wrong, right? Meanwhile, Vaccaro seems aptly skilled and sharpens this semi coming of age tale to a fine point. Worth your entertainment dollar as the pumpkin season warms up, The House with a Clock in Its Walls is rated PG.
Comments Off

on The House with a Clock in Its Walls
Taking Marymoor Park by storm through Nov. 4th, Cirque du Soleil's latest show Volta roars into the big top to wow, amaze, stun, and delight with their high energy and acrobatic display. Following the story of a young boy named Waz, a wildly spirited youth in danger of being tamed and broken down to become part of the rat race, that is until Ela, the rollerskating free spirit, reminds him of his true potential. Transcending the greys to remain a free spirit will take Waz on a journey only capable from the minds of Cirque du Soleil.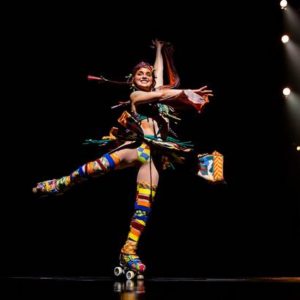 Operating a little differently than other Cirque models, the core of Volta appears to lean heavily on a single troupe of highly skilled and endurance ready acrobatic performers as opposed to many individual acts strung together to complete a show; the end result is a smaller more efficient cast with higher physical demands, an impressive lot which can only be explained by the word "Youth," one almost feels exhausted just watching the feats on display…almost. Also, a bit haphazard, the narrative structure doesn't entirely hold up or come to a strong resolution at the show's conclusion, a small quibble to be made, audiences are still in for a solid evening of live music, live action, and live art, an experience best digested in person. Tickets and more information can be found at Cirquedusoleil.com, the family is in for a treat.
Comments Off

on Cirque du Soleil: Volta
Detroit Michigan in the mid 1980's, teenager Richard Wershe Jr. (Richie Merritt) would find himself in the awkward position of being a street hustler, an FBI informant, and a massive drug Kingpin all before his 16th birthday. Meanwhile, Father Richard Wershe Sr. (Matthew McConaughey) would battle his own demons as a small time arms dealer with aspirations of opening a video rental store. It all sounds impossible, but it actually happened, this is their story.
Written by Andy Weiss, Logan Miller, and Noah Miller, Directed by Yann Demange and Darren Aronofsky amongst the list of producers, the pedigree of this film immediately makes for a point of demarcation between Summer time blockbusters and Awards Season flair; driving home a sobering story from the seedy underbelly of the rustbelt. Solid performances from the whole ensemble including work from Jennifer Jason Leigh, Bel Powley, and Bruce Dern further bring this bitter tale of woe to life. And, well thought out cinematography bathed in darkened hues by Tat Radcliffe effectively paints a vivid and indelible picture of the era. Strangely, original scoring by Max Richter comes across less impressive and the rather haphazard writing and editing of the overall story does leave the viewer craving a bit more finesse, alas, this does not spoil the picture, but does make for a few demerits. Worth catching up with at some point before the awards, White Boy Rick is rated R.
Comments Off

on White Boy Rick