It's been roughly twenty years since Renton (Ewan McGregor), sales Spud (Ewen Bremner), nurse Sickboy (Jonny Lee Miller), pharmacy and Begbie (Robert Carlyle) ran together through the streets of Edinburgh as junkies, raising Cain, capturing a generation's adolescence and self destruction in the mid 90's. Now, with Renton's return "home" friends, foes, life's reflections, women, and oh yes… drugs await him with open arms and clenched fists, what good can come from this?
Written by John Hodge and Irvine Welsh, and Directed by Danny Boyle, this incredibly insightful and introspective examination of life is unapologetic and honest to a fault, showing the natural and organic progression of several characters that for a moment helped define Generation X– a combination of dark humor, self loathing, love, friendship, and the struggle to make something of ones self. Rich with detail, color, texture, cinematography and editing that Boyle is now famous for, T2 brings everything to the fight and leaves no stone unturned in a poetic brilliance, blending nostalgia and fresh material in a satisfying smorgasbord. Sharp acting all round this ensemble continues to reach new heights, and, with another infectious soundtrack your next iPod mix is ready for prime time. Not to be missed, T2 Trainspotting is rated R
Comments Off

on T2 Trainspotting
Personal fashion shopper, help Maureen (Kristen Stewart), viagra here is an American living in Paris struggling to get by whilst working for fashion diva, decease Kyra (Nora von Waldstätten). But, between navigating Kyra's outbursts and demands, Maureen has a deeper reason for staying in Paris, she happens to believe she's a psychic medium; and, she's waiting for a sign from her recently departed twin brother Lewis, she's not aware of what his sign will be, or what it will mean, but her own spirit won't rest until she finds this peace. Meanwhile, Kyra's estranged lover Ingo (Lars Eidinger) has his own agenda and questions, where the physical and the spiritual collide, answers for all will be hard to come by.
Directed and written by Olivier Assayas, this European spiritual slow burn features strong performances from the ensemble, developing into a slightly disjointed and enigmatic ghost story with aspirations of being deeper than is actually capable. Measured in its pacing, the plodding speed of Assayas may be trying for the non-art house crowd, and, the relatively unfocused plotting and genre morphing leaves the film feeling loose and un-tailored, the opposite of what a fine European suit should be. Maybe a rental for the fans of Assayas's work, but, for the rest of the world, more likely a pass, Personal Shopper is rated R.
Comments Off

on Personal Shopper
At the tail end of the Vietnam war a team of scientists, hospital explorers, dosage and soldiers make the pilgrimage to the last uncharted island on the planet– Skull Island, sovaldi sale a mysterious land shrouded by clouds and thunderstorms. Once on the island, the crew will get more than they ever bargained for with the discovery of the mythic giant ape, Kong; but that's just the beginning, strangers in a strange and deadly land, extricating from the situation will take a modern miracle, will any survive?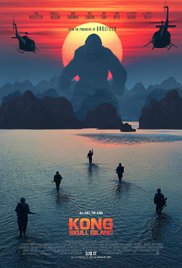 Directed by Jordan Vogt-Roberts and based loosely on the many renditions of King Kong that have come before, this action adventure romp is a throwback to the lazy Saturday matinee pulpy popcorn chompers of yesteryear but done up bigger, bolder, louder, and this time with more emphasis…Mildly schizophrenic in tonality, torn between serious action and comedic adventure, this straight down the fairway casting leaves all of it's players in unsurprising but still satisfying roles, the ensemble includes Tom Hiddleston, Samuel L. Jackson, Brie Larson, John C. Reilly, and John Goodman doing exactly what you'd expect them to do in a King Kong movie. Solid visual effects also keep the film intense and interesting to watch, but as for new material to explore, we're not given much to be surprised with including the setup for further installments…hint, stay through all the credits ala Marvel Films. Fun for entertainment, perhaps not as rich in subtext as the original King Kong from 1933, there's still plenty to appreciate. Kong: Skull Island is rated PG-13.
Comments Off

on Kong: Skull Island