A super secret military tactical unit run by the U.S. government find themselves in a particularly sticky situation as one of their informants, Li Noor (Iko Uwais), appears to know a lot more than he should for his own good; requesting extraction from his country and asylum from his own goverment, Noor could be the key to saving the world from a total meltdown on the nuclear front. Now it's up to Jimmy Silva (Mark Wahlberg) and the rest of his team to protect Noor, and get him literally 22 miles down the road to catch a cargo plane to safety.
Written by Lee Carpenter and directed by Peter Berg this late summer hammer smasher is out to jolt audiences with impressive fight sequences and death defying action, just one problem, editing. For all of its plot twists and turns, punches and kicks thrown, knives dodged, and bullets missed, the haphazard and analeptic cutting and re-pasting of scenes makes the overall experience hard to track and a bit exhausting. Meanwhile, for better or worse, the reasonably well obscured story line does manage to keep the audience guessing right up to the bitter end. So, while Wahlberg is delivering the goods pound for pound, it's too bad you wouldn't really know it. Bummer, perhaps worth your time as a rental later, just be wary of the super loud foley on your home speakers. Mile 22 is rated R. Say hello to your mother for me…
Separated from his tribe during a buffalo hunt, a young caveman, Keda (Kodi Smit-McPhee), must fend for himself, thwart off enemies, and find his way home– a quest that will ultimately result in the first symbiotic relationship between humans and canines; but, with winter coming will the two make it back to safety before the frozen earth saps them of their life force?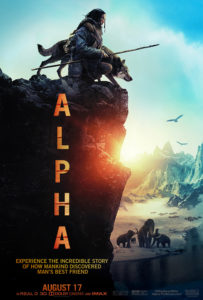 Written by Daniele Sebastian Wiedenhaupt and Directed by Albert Hughes this rudimentary "Hero's Quest" begins with a rather slow first act but does manage to pick up steam by its midway point to carry the audience through, what feels like, every possible natural disaster. Seamlessly blending CGI and cinematography this is an experience that will probably translate best on the big screen; and, even though the audience is spoon fed a checklist of well known dog tricks and behaviors, there's still a certain overall charm that's hard to deny. From an acting standpoint Smit-McPhee effectively jumps through all the hoops to sell the drama as believable, the rest of the ensemble fall right in line. Dog lovers, here's your anthropomorphized bone for the year, enjoy, just don't expect to remember much about the experience after the fact. Alpha is rated PG-13.
A group of marine biologists and aquatic scientists find themselves in a precarious situation when an expedition to the deepest part of the ocean accidentally also releases a prehistoric Megalodon shark, the Meg, into the waters of the Pacific. Originally thought to be extinct and now filled with the pent up rage of thousands of years the Meg appears to have one goal in mind, eat anything and everything in the sea. It's now up to international badass and deep sea expert Jonas Taylor (Jason Statham) to lead a team of unlikely characters to save the day; but, billionaire and investor, Morris (Rainn Wilson) may have other plans yet. What will ultimately be the fate of humanity and the fate of the Meg?
Written by Dean Georgaris, Jon Hoeber, and Erich Hoeber and Directed by Jon Turteltaub, this ridiculous romp of a shark monster movie truly is as corny as it sounds, rich with cliche characters, horribly awesome dialogue, preposterous situations, and fantastically telegraphed punches. And yet, the film still manages to conjure a few screams, a few flinches, and sure even a few laughs, because seriously, what were you expecting, the Citizen Kane of Shark films? Statham stays true to form, goes topless AND punches a shark in the eye, which is to say, he earns his paycheck, er…sort of? But, talk about earning one's keep, cinematographer Tom Stern does a bang up job capturing the glory and the majesty of this otherwise low set bar. Truly a film that belongs in the pulpy rental category for the winter; in the meantime, keep your expectations in check and you'll do just fine with this quickly forgettable barrel scraper. The Meg is rated PG-13.