Lara Croft (Alicia Vikander), daughter of the ridiculously wealthy business man/explorer, Lord Richard Croft (Dominic West), happens to be a wildly spirited and independent young woman set on making her own path, free of her family name. But, when misadventure brings Lara back to Croft Mannor, answers surrounding her father's disappearance seven years ago begin to reveal them self, including clues to the search for a Japanese Queen of Death, perhaps the two are related? It's an adventure that will take Lara around the world in search of answers high and low, all the while the dark hand of Trinity seems to be at work, watching, waiting…What does it all mean?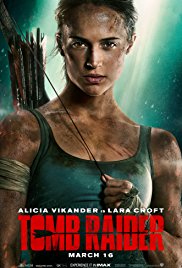 Directed by Roar Uthaug one has to remember the original source material for this film is a mid 90's video game, at the time noted for its prominent T&A as much as its action plot. Which, historically speaking, is a formula that's churned out barn burners like the Resident Evil franchise, the Underworld franchise, or the previous incarnation of Tomb Raider with Angelina Jolie, he says with more than a hint of sarcasm. But woah woah, hold the phone, this go around might actually have some tread to it despite having next to no originality in the actual "tomb raiding" act, sorry, those credits should actually go George Lucas and the crew who wrote the Raiders franchise, so it goes. Yet, even with all of its faults, this pulpy adventure actually manages to bounce from sequence to sequence entertaining just as intended. Vikander is a formidable Croft incarnate, and, sure there are some throw away bits and a few misses; but, one could do a lot worse, exhibits A, B, and C, all listed above. How's about a roughly two hour matinee for the adventure sake? Tomb Raider is rated PG-13.
Comments Off

on Tomb Raider
Following the last days of the former Soviet dictator, Stalin (Adrian McLoughlin), the political angling of Nikita Khrushchev (Steve Buscemi), Lavrenti Beria (Simon Russell Beale), and the rest of the Soviet comrade cabinet, this look into chaos as the players all struggle to save their own hides is ripe for truth and satire, this is their story.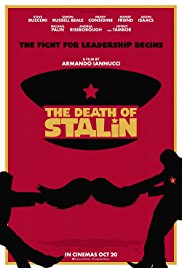 Directed and partially written by Armando Iannucci, this semi "Drunk History" take on Soviet history is so full of absolutely horrific goings on and wry/dry gallows humor, it's about the only way anyone with a stomach might make it through the lesson without feeling totally ill. Furthermore, the wildly talented ensemble work as a well oiled locomotive, delivering the insanity and awe blow by blow, this really is a schadenfreude romp of epic proportions. The main criticism being, target market? Where or who is the audience for this film, mass appeal seems a tough reach. But, then again, perhaps this is a setup for the film that's being written about the U.S. and its current administration? Tough call. Bottom line, students of history, get thee to this film lest ye repeat its blackened actions yourself. The Death of Stalin is rated R.
Comments Off

on The Death of Stalin
Examining the tenuous relationship between the Palestinians and Israelis circa 1976 and the hijacking of an Air France flight en route from Tel Aviv to Paris; an engagement that would ultimately end in Entebbe Uganda and involve several German activists, Wilfried Böse and Brigitte Kehlmann (Daniel Brühl and Rosamund Pike), this is their story and ultimately the setting of political terms in the region for the next 40+ years of engagement.
Written by Gregory Burke and Directed by José Padilha this intense political procedural/military engagement mentally sits in good company with films such as Zero Dark 30 and Argo, although, appears significantly smaller in overall scope than either of these two shelf mates. Punctuated by the beauty of the Batsheva dance company throughout, viewers are cast between the drama of the heart and the mind, a tormented but beautiful experience just the same. An ensemble piece, the overall tone is even handed and standouts among the bunch don't really exist, this is perfectly healthy and perfectly normal. Perhaps most important though is the explained modern historical context of the centuries old unrest in the Middle East, and a look as to why this deadlock continues. Running 106 minutes and worthy of your matinee dollar, perhaps a rental later, 7 Days In Entebbe is rated PG-13.
Comments Off

on 7 Days In Entebbe