Single mom Karla (Halle Berry) is in a custody battle for her young son, Frankie (Sage Correa); meanwhile, a mysterious duo of kidnappers has plans of their own for Frankie. Pushed to her limits Karla will stop at nothing to retrieve her son; but, will her best be good enough?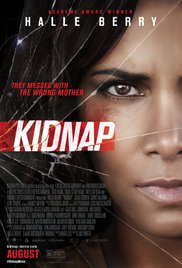 Directed by Luis Preto and Written by Knate Lee this 94 minute minivan car chase aims for high speed thrills and cheap suspenseful spills in what appears to be one of the flattest and most boneheaded stories of 2017. Heavily deploying the editing monsters to create tension out of nothing and cranking the score louder, faster, and with more intensity to drive the film off a proverbial cliff. Merciful in its brevity, pass. Kidnap is rated R.
A decade since the release of An Inconvenient Truth the topic of climate change and global warming continues to be a politicized hot button issue. Meanwhile, self described "recovering politician" Al Gore is continuing to crusade for protecting the environment, what's new and is there still hope for us here on earth?
Directed by Bonni Cohen and Jon Shenk this information rich follow-up continues to deliver hard hitting facts and important information for the world to see and acknowledge, unfortunately for us, the man bringing the people the gospel has the charisma of a stick of broccoli– but, get past the often droll tone and the answers start to become clear, hope can be found, and, the issue doesn't have to be a partisan matter. Additionally, a bit of grandstanding around the Paris climate agreement of 2016 does come across as self important, regardless, the point remains the same, evasive action needs to be taken and the evidence continues to mount. An important and healthy watch, just have a cup of coffee before the film starts. An Inconvenient Sequel: Truth to Power is rated PG.
Comments Off

on An Inconvenient Sequel: Truth to Power
Undercover MI6 agent Lorraine Broughton (Charlize Theron) is sent into East Berlin days before the fall of communism and the Berlin Wall in search of secrets capable of propelling the cold war indefinitely. Helped and hindered by agent Percival (James McAvoy), surviving her time in Berlin whilst navigating the underbellies of the intelligence networks will be a miracle in itself, Lorraine is a lean mean killing machine, but even this job might be a bit too much to handle, what to report back to her superiors (John Goodman, Toby Joes, James Faulkner)?
Directed by David Leitch and based on the Graphic Novel series "The Coldest City" this rockin' 80's spy drama brings all the flair of the European 80's with the sensibilities and aesthetics of 2017. And, while audiences aren't really given a whole lot new in the spy department to sink their teeth into, the whole story does wind up a little too twisty and contrived, there are several action sequences that appear to be performed in one continuous shot that will leave audiences breathless and thoroughly impressed. Theron has clearly thrown down the gauntlet for actors performing their own stunts setting the bar impossibly high. Worth your while for the fun factor and accompanying re-mix soundtrack alone, Atomic Blonde is rated R.
Comments Off

on Atomic Blonde