Mother of three, Marlo (Charlize Theron), is exhausted and exasperated. Receiving little help from her caring but absent husband Drew (Ron Livingston), Marlo's brother Craig (Mark Duplass) makes the offer to pay for a night nanny to assist in duties around the house; an unwelcome concept at first, the idea eventually grows legs and before long spritely Tully (Mackenzie Davis) arrives to lend the perfect hand. Rested, Marlo begins to re-discover herself through Tully's eyes, a vivid reflection of her own self or is it? The mind is a terrible thing to waste.
Directed by Jason Reitman and Written by Diablo Cody this psychological journey into the self dances somewhere along the lines of Zen and the Art of Motorcycle Maintenance and Fight Club. With the impeccable wit and tongue of Cody at the wheel and keen eye of Reitman behind the glass the pair effectively create something that feels authentic and organic, relishing in awkward moments and the points that make us fallible, human, and relatable. Intelligent in its construction through and through high praise goes to the ensemble for their deft ability to carefully take the shape of each complex and interesting character, sharp glances to heavy sighs, not a touch seems out of place. Perfect date material or early mother's day plans perhaps, all parties win. Tully is rated R.
Safe Safe, No spoilers! Safe, Avengers: Infinity War centers around Thanos (Josh Brolin), the interstellar and powerful warrior dead set on destroying half of the Universe; that is, unless the Avengers and allies high and low can do something, anything, to stop him, but will that even be possible?
Directed by revered fans of the genre Anthony and Joe Russo and written by a bajillion writers this pinnacle of the Marvel Cinematic Universe cleverly bridges the gap of multiple storylines in a larger than life roll call to the big screen. An ensemble piece that allows well established characters to do exactly what we've come to expect from them over the years, kick some ass and take some punches, no surprises there. Well developed CGI, and thought out sequencing successfully paired with a hefty amount of handheld camera work and editing brings the action up close and personal this go round, but, not so close that one loses total track of the big picture. Furthermore, peppered with Marvel's signature humor, Infinity War navigates the often controversial and hostile ground of comedy/action with deft precision allowing the story to glide from genre to genre without color shifting in a tonally challenged way. And, marrying the musical soundscapes of the Marvel Universe, Alan Silvestri's commanding work induces armrest grip strength tests of unmatched power, well done! Worthy of your cinematic dollar for all two hours and twenty nine minutes of runtime, yes, stay through the credits (but you knew that), great things happen and great things are yet to come. It's films like this that make the theatre going experience really worth while. Avengers: Infinity War is rated PG-13.
Comments Off

on Avengers: Infinity War
Relegated to a life of insecurity and feeling ashamed of her body, basement office worker Renee (Amy Schumer), finds herself with a new boost of confidence and the gusto to seize the world on her own terms. And, to her credit, the new confident Renee is a successful woman, climbing the corporate ladder at Lily LeClaire makeup. But, failure is just one slip away, and, if she falls will Renee learn the important lesson– she's had the power all along?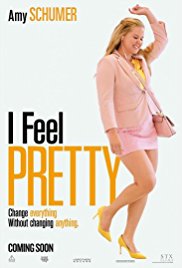 Written and Directed by Abby Kohn and Marc Silverstein this message movie about empowerment and love thy self appears to have all the best intentions but lacks subtlety in its delivery to really check all the boxes of quality. Schumer herself is a perfect foil for this comedic Oz-like tale, and, support from Michelle Williams and Lauren Hutton fit their required caricatures nicely. Still, the overall camp factor remains high throughout this thoroughly telegraphed screenplay. Clocking in with an hour and fifty minutes of run-time, welcomes are overstayed by at least few minutes, which frankly, comes as no surprise given the overall kitchen sink approach to the storytelling. Perhaps still worthy as a matinee with the intention as a moderate chuckle inducer or as a conversation starter between parents and tweens, I Feel Pretty is rated PG-13.
Comments Off

on I Feel Pretty