Following up after the events of Avengers: Endgame, "The Snap" and "The Blip," Spider-Man (Tom Holland) is trying his hardest to maintain a relatively low profile and live a "normal" teenage life. But, when Nick Fury (Samuel L. Jackson) comes knocking and recruiting, Peter Parker will have a hard time saying no, even while on a European vacation with his class. Saving the planet from the Elementals will require strategy of the utmost, Fortunately Quentin Beck (Jake Gyllenhaal) from a parallel universe has insight, or does he?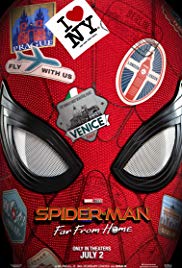 Directed by Jon Watts and Written by Steve Ditko, this thoroughly enjoyable foray into the teen angst of Peter Parker, MJ (Zendaya), and Ned Leeds (Jacob Batalon) makes for easy comic book popcorn chomping fun. And, while the overall script isn't terribly complex, the onscreen chemistry between Holland and Gyllenhaal is well crafted and believable. With a considerable amount of thought and creativity in the CGI department, Far From Home also boasts one of the more visually stunning homages to early cinematic history; creating battle sequences that draw on influences such as Fritz Lang, Orson Welles, and Alfred Hitchcock, the vertigo inducing spectacle is strong and fantastic. Scoring by Michael Giacchino is equally powerful. Coming in with a run time of two hours and nine minutes, Far From Home does stretch a tad long but still runs mercifully shorter than this summer's other Avengers property. Still a winner, Spider-Man: Far From Home is rated PG-13.
Comments Off

on Spider-Man: Far From Home
Struggling to get by as a songwriter and street performer Jack Malik (Himesh Patel) hits an all time low when he's struck by a bus at the exact moment an inexplicable hiccup renders the entire planet in darkness for just a split second. Upon waking from the hospital, minus a few teeth, Jack discovers somehow, some way, he's the only person on Earth who can remember The Beatles. With the entire Beatles catalog now in his songwriting book, Jack achieves a relative degree of local fame. Innocently backed by his best friend and manager, Ellie (Lily James), Jack is haunted with the prospect of this seemingly victimless crime of plagiarism. Meanwhile, the chalice of fame and fortune is a massive temptation when new manager Debra Hammer (Kate McKinnon) and pop Sensation Ed Sheeran arrive on the scene. Careful what you wish for….
Written by Jack Barth and Richard Curtis and Directed by Danny Boyle this Oz like journey into a parallel universe thankfully avoids the "oh it was all just a dream" trope and instead focuses on a much simpler straightforward feel good story. Specifically, none of the lead characters are particularly tricky and the real driving momentum comes from well rehashed Beatle magic. Dotted with endearing humor and select moments of the Danny Boyle cinematic je ne sais quoi, this is no Trainspotting or Slumdog, regardless, the positives outweigh the negatives, and, for folks looking for the next singalong flick, stop go no further. Yesterday is rated PG-13.
Comments Off

on Yesterday
When spiritualists and paranormal investigators Ed and Lorraine Warren (Patrick Wilson, Vera Farmiga) leave their daughter Judy (McKenna Grace) at home for an overnight with trusted babysitter Mary Ellen (Madison Iseman) it should be a simple low drama stay. But, when Mary's friend Daniela (Katie Sarife) shows up, a series of unfortunate mistakes leads to the release of Annabelle, A doll that happens to be a conduit and anchor point for a powerful demonic spirit. Keeping the balance between the worlds of the living and the dead will make these adventures in babysitting far from ordinary.
Written by James Wan and Gary Dauberman and Directed by Gary Dauberman, this surprisingly effective third installment in the Annabelle storyline manages to maintain all the spook, boo, and bump in the night from start to finish. Relying largely on practical effects and careful cinematography for its most effective scares, this hand wringing roller coaster is loaded with plenty of surprise, even for fans of Wan's off beat tactics. Effective scoring by Joseph Bishara continues the creep factor to 11, giving our ears plenty to fear just the same. And, with a handful of real-life Warren "Easter eggs" peppered throughout the film, a careful eye throughout is required; reason not to blink, even when you want to look away! Fun for those who enjoy a solid dark ride, Annabelle Comes Come is rated R.
Comments Off

on Annabelle Comes Home