Thirty years later a small group of childhood friends are still engaged in an annual and moderately organized game of Tag during the month of May. And, this might just be the year that Jerry (Jeremy Renner) is deflowered as "it," you see, all this time Jerry has never been tagged. Hogan, Bob, Randy, and Kevin (Ed Helms, Jon Hamm, Jake Johnson, Hannibal Buress) will have to come together as never before, all the while supported by Hogan's wife Anna (Isla Fisher) and the watchful eye of reporter Rebecca (Annabelle Wallis). Getting Jerry may be one goal; but, there may be a bigger message about Tag than any of these friends ever anticipated.
Directed by Jeff Tomsic and written by Rob McKittrick and Mark Steilen this deceptively compelling story about brotherhood tees up irreverent male humor with enough heart and soul to deliver a heartwarming message in a simple package, and, loosely based on a true story none the less. Simple escapism awaits as we roll closer to the Summertime blockbuster season just days away, there isn't exactly rocket science involved in this slapstick adventure, but rather, enough laughs to cross the finish line in fair enough order, especially with a run time of an hour and forty minutes. Tag is rated R.
Released from five years in prison, con artist Debbie Ocean (Sandra Bullock) has had ample time to plan out the perfect heist; the job to end all jobs, settle scores, and perhaps even retire by, a perfect crime at New York's Met Gala. Aiding her are friends, colleagues, and partners in crime Lou, Rose, Amita, Nine Ball, Constance, Tammy and Daphne (Cate Blanchett, Helena Bonham Carter, Mindy Kaling, Rihanna, Awkwafina, Sarah Paulson, and Anne Hathaway). But, planning the perfect crime and committing the perfect crime will take expert precision, is this the team to actually get the job done?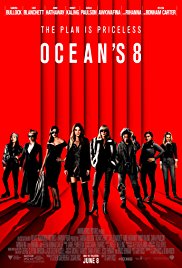 Directed and partially written by Gary Ross, this rollicking heist flick is a welcome jaunt into the summertime movie season. Heavy duty melodrama? No, not really, instead the audience gets simple fun, a few laughs, a few mild twists, and a really talented ensemble having a good time with the caricatures they're embodying. Shot and edited with 60's nostalgia flare, a tip of the hat to previous Oceans, Bullock and crew hold down the fort with tons of chemistry to drive the picture forward. And, coming in with a runtime of an hour and 50 minutes, welcome's are not overstayed. Escapism for the weekend, check! Ocean's 8 is rated PG-13.
Comments Off

on Ocean's 8
Unlikely hero, the mildly dark and handsome bad boy of the stars, Han Solo (Alden Ehrenreich), frees himself from slavery and sets out to become a pilot; but, following orders and falling in line, not exactly a strong suit for this daring young daredevil. Meanwhile, the empire and crimson guard continue their advance from planet to planet, collecting resources and enslaving inhabitants, all the while an active black market secretly continues to thrive. Falling out of good grace with the empire, Han Solo finds himself aligned with a host of smugglers, thieves, and gamblers, members of the dirty side of the galaxy. In the underworld Han will meet notorious characters such as Lando Calrissian (Donald Glover), Chewbacca (Joonas Suotamo), Beckett (Woody Harrelson) , and Val (Thandie Newton), friends or foes, who's to say at this point, either way they'll have to work together to stay alive and pay off debts owed to Dryden Vos (Paul Bettany). And what of this old flame/love interest Qi'ra (Emilia Clarke), young Han has a lot of learning yet to do.
Directed by Ron Howard and Written by Jonathan and Lawrence Kasdan this perfectly predictable story offers up handfuls of fan fic pulp, offering up answers and origins to all things Solo– which might be interesting, if the surrounding story were more compelling and not so much of a spoon feeding of expectations. Respectfully, this is no small undertaking for Howard and crew, attempting to capture the bravado and gravitas of one of the Star Wars franchise's most beloved characters, the deck is already loaded for failure with a build up of over 40 years of anticipation, but certainly the Kasdan's could have come up with more driving ways to reveal key elements to Solo's character. As for the ensemble embodying our heroes this go round, shoulder shrugs, there are hits and misses, the end result is kind of a "humph," the same can be said for the film overall. Mercifully, at least we're not given a Jar Jar in this backstory. Solo: A Star Wars Story is rated PG-13.
Comments Off

on SOLO: A Star Wars Story