Around the early 2000's two unlikely friends, Greg Sestero and Tommy Wiseau (Dave Franco, James Franco) would meet whilst studying the craft of acting; determined to make it in Hollywood the two would move to L.A. in search of work only to find closed doors and little hope. Despite the odds, and driven by Tommy's eccentricity as well as his mysteriously bottomless wallet, the two (mainly Tommy) would go on to create "The Room" a film that has since been dubbed the Citizen Kane of bad film. The Disaster Artist is a biopic recreation of this cinematic mark in history, Oh, hai Mark!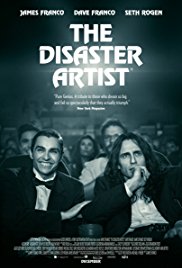 Directed by James Franco with a screenplay based on Greg Sestero's book "The Disaster Artist: My Life Inside The Room, the Greatest Bad Movie Ever Made" this passion project of epic proportions lovingly details the insanity and events surrounding one of Hollywood's most enigmatic productions in recent day– a film that has ignited new love in the midnight screening world (think Rocky Horror Picture Show). The end result is a painfully hilarious and oddly complex drama centered around friendship, perseverance, and the American Dream; James Franco's vision and re-telling of events casts an amazing glow upon the dream of filmmaking, the blood, sweat, and tears necessary, and, in this instance, the mythic Tommy Wiseau. Supported by a wildly comedic and well metered ensemble The Disaster Artist has the DNA, pedigree, and markings of a Hollywood contender as we roll closer to awards season. Do not miss this film, furthermore, be sure to sit through the end credits, all of them, The Disaster Artist is rated R.
Comments Off

on The Disaster Artist
In light of the recent death of Superman (Henry Cavill) the fate of planet earth is being threatened by Steppenwolf (Ciarán Hinds), destroyer of worlds. Meanwhile, sensing the impending doom Bruce Wayne (Ben Affleck) assembles a league of extraordinary individuals including Wonder Woman, Aquaman, Cyborg, and The Flash (Gal Gadot, Jason Momoa, Ray Fisher, Ezra Miller) in order to save the world. But what if they're already too late?
With Writing and Directing credits going to both Zack Snyder and Joss Whedon, Justice League is a bit of a breakfast scramble of comic ideals, sometimes irregularly blending the philosophies of these two cinematic titans, one with seriousness the other with levity. Serving the franchise as a whole, the film also doesn't spend much time setting up three of its pivotal characters but instead leaves their stories open to exploration later; a quick aside, I'm told the bits of origin that the audience does get are a bit of a touchy subject of inaccuracy for hard core comic fans, but what's new? In the meantime, the overall piece is still somehow assembled in a functional albeit clunky manner despite having had approximately an hour of footage exorcised from the film, impressive. Composer Danny Elfman also scores points in effectively gluing the film together in a consistent and inspired direction. Bottom line, while not on tippy top of the DC quality pile, it's certainly stronger than a handful of fellow contestants, you're in for a "fun enough" film that's worthy of seeing on the big screen. Justice League is rated PG-13.
Comments Off

on Justice League
Aboard the mythic Orient Express a group of colorful characters mix and mingle until murder strikes in cloak of darkness; now, it's up to the investigative genius of Hercule Poirot (Kenneth Branagh) and his mustache to solve the mystery before the train arrives at its destination and time runs out.
Based on the novel by Agatha Christie, and Directed/Produced by Kenneth Branagh this visual smorgasbord of color, light, and art deco decor dresses to impress. Meanwhile, well metered performances from Johnny Depp, Penélope Cruz, Willem Dafoe, Daisy Ridley, Leslie Odom Jr., and Michelle Pfeiffer set up a fresh brand launch of a celebrated literary classic. Cinematically stunning in its creation Branagh offers the world the latest film to be shot in 65mm, providing cinefiles a true feast for the eyes, although pacing of the film does become a bit of an issue into act II as events move at a slower pace, perhaps too slow for younger audiences, alas a strong finish to act III brings redemption for the viewer, it's clear the big guns are indeed begging to roll out for Oscar season. Murder on the Orient Express is rated PG-13.
Comments Off

on Murder on the Orient Express