Charming as an eel, a bad banana with a greasy black peel, the grumpy Grinch (Benedict Cumberbatch) of Whoville is dead set on destroying the fun of Christmas, but with what success, and what will single mom Donna Lou Who (Rashida Jones) and daughter Cindy (Cameron Seely) have to say about the matter?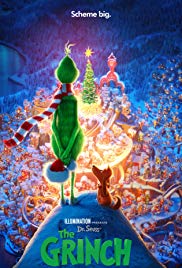 Directed by Yarrow Cheney and Scott Mosier and written by Michael LeSieur, based loosely on the book by Dr. Seuss, this absolutely unnecessary updating and recreation of an animated classic offers little to no sustenance or raison d'être. Sure, the textures and colors in this go round look pretty; but, a screenplay that breaks classic rhyming schemes and tosses imagery aside like yesterday's news robs much of the original Seussian charm to create a shell of what once stood proudly as the peak of of Bah Humbug, alas no more. Score and music by Danny Elfman, with inspiration from the original works is particularly un-inspiring, you did us dirty Danny, you did us dirty. Meanwhile Cumberbatch as the Grinch appears to be a misfire on all cylinders, the least casting director Barbra Harris could have done would be to match a voice equally gravelly to that of…oh…I don't know…Tom Waits, to fill the role, but no. So there, I hated it. BAH HUMBUG! The Grinch is rated PG.
Comments Off

on The Grinch
Serving as a chronicle of the years leading up to the rock band Queen's legendary appearance at Live Aid in 1985, this is the story of Freddy Mercury (Rami Malek), Brian May (Gwilym Lee), Roger Taylor (Ben Hardy), and John Deacon (Joseph Mazzello)
Written by Anthony McCarten and Peter Morgan with Directing credits to Bryan Singer this love letter to Queen is a canted angle of observation leaving audiences with a downright stellar performance from Malek, but ultimately a rather hollow story of the band's up's and down's in sickeningly sweet reflection to the mantra of "we're family" and attitude of us against the world, often settling band disputes with their next big hit in a dance off style fashion. But, looking past the syrup and schmaltz, this two hour and 14 minute walk down Queen's memory lane and greatest hits offers up a handful of anecdotal moments and interesting tid bits behind the scenes, plus deeper insight to the love life of Mercury leading up to his death in 1991. Worthy of a matinee for the spectacle factor, you'll clearly have plenty of hit tunes to be humming on your way out of the theatre. Bohemian Rhapsody is rated PG-13.
Comments Off

on Bohemian Rhapsody
Gifted a locked musicbox for Christmas by her departed mother, whip smart and clever young Clara (Mackenzie Foy), is on a mission to find the key to her gift. But, when godfather Drosselmeyer (Morgan Freeman) provides Clara the key she's looking for, little does she know she's about to be transported into a magical world within the Christmas Tree, a parallel world of four realms, the Snowflakes, The Flowers, The Sweets and The Amusements. Within the four realms Clara will meet many fantastical people and creatures, most notably, Sugar Plum (Keira Knightley) of the realm of Sweets, Soldier Captain Phillip (Jayden Fowora-Knight), and Mother Ginger (Helen Mirren) leader of the realm of Amusements. But, the supposed good intentions of all might not be quite what they seem, unveiling the mysteries of the four realms will provide Clara with a gauntlet of challenges before she returns home.
Written by Ashleigh Powell and Directed by Lasse Hallström, and Joe Johnston this expensive suggestion based on the concepts in E.T.A. Hoffmann's short story and the Nutcracker Ballet by Marius Petipa explores the worlds of fantasy yet moves at such a slowly metered pace it never truly reaches much of a crescendo. It's as if art direction for the Nutcracker took notes from Oz, Willy Wonka, and Alice in Wonderland but then forgot that somewhere there needs to be a plot, and, while we're at it, let's not also forget the fact that James Newton Howard, one of Hollywood's finest modern-day composers, was tapped to create the score, but is instead relegated to re-hashing the work of Tchaikovsky, not a bad gig if you can get it, but still…Bottom line, there's a lot to look at here, just don't anticipate your retention to be that great by the end, even with a run time of only 99 minutes. The Nutcracker and the Four Realms is rated PG
Comments Off

on The Nutcracker and the Four Realms