A male escort ( Shogi Silver) is mysteriously sent to the house of Professor Peter Boyle (Paul Eenhoorn) for one last job– help the professor find a woman in this modern world. But, teaching and navigating the dating scene after being off the market for decades will prove to have lessons for both the teacher and the student.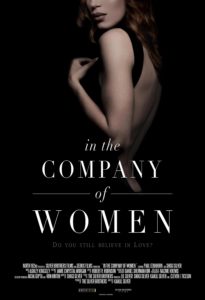 Written by Shogi Silver and Directed by Kahlil Silver this ambitious production serves up a lengthy dialogue between its two principals, but, unfortunately the script never materializes into a full narrative arc. And, while it's clear best intentions are behind this production, it's also clear the vast majority of the production crew are still relatively new to their respective trades. Applause for completion of this project and achieving distribution through Amazon Prime, this critic is always a champion for more Washington State film production, keep polishing. In The Company of Women runs 1 hour and 37 minutes and is unrated.
Comments Off

on In The Company of Women
In the time of Charles VI (Alex Lawther), the King of France, two friends on the battlefield, Sir Jean de Carrouges (Matt Damon) and Jacques Le Gris (Adam Driver) would grow further and further apart over politics and social savvy until the final blow, Jean's wife, Marguerite (Jodie Comer), would accuse Jacques of rape. Now, a matter brought before God and King, Jean and Jacques must settle their disputes in a duel, this is their story.
Written by Nicole Holofcener, Ben Affleck, and Matt Damon and Directed by Ridley Scott this three chapter story, effectively re-telling perspectives from each party involved, Jean, Jacques, and Marguerite is a test of patience and wills for roughly the first two hours whilst setting up for the actual duel. Which is to say, the concept probably looked great on paper, but all the king's horsemen and all the king's men have a hard time keeping this woke white knight seeking justice narrative interesting and compelling once the "gimmick" runs out of gas mid chapter two. Visually, Scott is unquestionably on point and in stride throughout the handful of battle scenes, and that helps fuel the rest of the film's drive forward; but, sadly, good production design and carnage isn't enough to make up for the overall lack of narrative. Acting from the ensemble all seems fit, shoulder shrugs all round. At two hours and thirty two minutes of runtime, yawn, The Last Duel is rated R.
Comments Off

on The Last Duel
At a remote Icelandic farm a couple, María (Noomi Rapace) and Ingvar (Hilmir Snær Guðnason), discover a strange newborn amongst their sheep. Still recovering from the loss of their daughter Ada, this new and unexpected gift offers the couple a taste of happiness and sense of family, but at what cost?
Directed by Valdimar Jóhannsson and Written by Sjón and Jóhannsson this three act tale of mother nature's revenge starts with a fantastically crafted premise and setup, and, hilariously wonderful elements of horror woven into the purity and brutality of farm life. However, as acts two and three unfold, the film fails to fully develop into a cogent horror or a cohesive tale of folklore but instead moves sideways to take an undeserved out. In totality, what we have is a scene, not a complete story and perhaps the nuggets of a good short film that's gone on to become an hour and forty six minutes long; which, in this case feels about an hour and twenty minutes too long. Points for creativity, demerits for lack of arc. Lamb is rated R.