Ski vacationing in the Austrian alps an American family is threatened by an avalanche. Surviving the event, Pete (Will Ferrell) and Billie (Julia Louis-Dreyfus) take a serious re-evaluation of priorities and desires, could this be their last vacation as a family?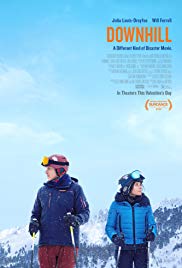 Written by Jesse Armstrong, Nat Faxon and Jim Rash, based on Ruben Östlund's screenplay Force Majeure (2014), Directors Faxon and Rash present this re-telling and re-packaging of an already well received foreign film creating a bit of a head scratcher. Specifically and sadly, a number of comedic and dramatic points appear to get lost in translation watering down the original story to something less than the original, and, American audience's may be additionally confused by the rather straight delivery from typically buffoonish Ferrell, especially with consideration as to how the film has been marketed (comedy over drama). Never the less, enough of the original screenplay does remain intact to hold structure and the endearing chemistry between Ferrell and Louis-Dreyfus sticks the landing, mostly. Furthermore, coming in at a scant 86 minutes of runtime, plans for the the second part of your date night might still need to be thought out, Valentine's planners beware. Downhill is rated R.
Destructive, destitute and desperate after loosing her entire family in a plane crash, Stephanie Patrick (Blake Lively) is contacted by an investigative reporter with new details about the suspicious details surrounding the incident. Now on a mission to serve justice with guidance from a former MI6 agent, B (Jude Law), Stephanie assumes the identity of Peytra, a lethal assassin with an exceedingly dark past. It's kill or be killed as Stephanie/Peytra scours the globe executing all responsible, but will she find redemption?
Directed by Reed Morano and Written by Mark Burnell this slow to start Dragon Tattoo-esque-lite release is a film that sets out to be a lot harder, a lot edgier, and a lot more exciting than it actually turns out to be. Scripted mainly with cliches and tropes, this unimaginative hour and nearly fifty minutes moves at a glacial tilt while technically checking all the requisite boxes of a "spy" flick. Furthermore, questionable choices in editing and soundtrack poorly punctuate the film's overall flow all together. Maybe a rental later, save your coin this time. The Rhythm Section is rated R.
Comments Off

on The Rhythm Section
An American with Scottish roots, Mickey (Matthew McConaughey), happens to be one of Britain's largest drug lords. Looking to get out of the game and enjoy time with his family, Mickey is looking to put his business for sale on the black market. But, when perspective buyer, Matthew (Jeremy Strong), gets a look at the operations, everything goes sideways. Kill or be killed, it's hard to be king without a bit of help, enter Ray (Charlie Hunnam), Mickey's right hand man; righting the ship and keeping the profit margin high will take extra time, effort, and a few more friends. Just where exactly does the carnage begin and end?
Written and Directed by Guy Ritchie, this colourful installment of the Ritchie testosterone, British gangsters, fighters, and bad-assery picks up with much of the same tone and timbre of previous works such as Lock Stock and Two Smoking Barrels and Snatch. In fact, in terms of specific voice one might argue a considerable amount of the dialogue and pithy humor featured in each of these volumes could easily be cut and pasted interchangeably. Although, it should be noted The Gentlemen feels particularly raged and aggressive in tone, as if to say Ritchie decided to take all of the hardest points of his previous works and amp them up even louder, necessary or not. Meanwhile, the film's overall pacing seems to run at an odd meter, something that could be addressed with a few more judicious cuts. Regardless, getting the chance to dip one's toe in the fictionalized pool of the UK's underbelly is always a fun way to safely spend a few hours with witty cockney sayings, wise-guys getting wiser, rock and roll attitude, and a fair amount of head shots splattering the screen in technicolor red! Solid, and don't forget to adjust your ear for accent, there's much ephemera to be absorbed in the language. The Gentlemen is rated R, for a reason!
Comments Off

on The Gentlemen