Archive for August, 2009
Director and producer of An Inconvenient Truth Davis Guggenheim takes on a less politically challenged source for material in his latest offering It Might Get Loud– rock guitarists. Specifically Jimmy Page of Led Zeppelin, The Edge from U2, and Jack White of the White Stripes are all tapped in this documentary. Talking shop about their various bands, how they each got into playing the guitar, and where and how they formed their respective signature sound are topics addressed in this film. Aside from the personal stories and histories though, the real magic happens when all three of the artists get together to talk music, share songs, and trade ideas with each other, a real treat for the rock history buffs.
Unfortunately, the film doesn't spend much time at this round table but rather spends more time with each individual and feels more like a really well put together episode of Behind The Music. To that end, Hard core fans of any of the afore mentioned artists will still find interesting and new material here, but this film still feels like more of a rental. It Might Get Loud is rated PG.
Comments Off

on It Might Get Loud
Paul Giamatti (Paul Giamatti) is an actor starring in a play by Chekov but feels bogged down by the heaviness of his soul. When a new procedure is developed to remove the soul from the body to liberate people from their worries, Paul takes particular interest. Before long, the now soulless actor begins to realize he was actually better off with his soul. Unfortunately, when he goes to have his soul re-attached to his body, he discovers his soul has been sold on the black market. Will a donor soul suffice, will Paul ever get his soul back, will his soul retain its beauty despite being sold to a vile and poisonous person?
Written with the actor in mind, this unique tale makes for a funny and imaginative look into "what if?" And, for Paul Giamatti, the script allows for a fun and interesting challenge. The occasional jaunts into art film territory also add a splash of the unexpected. Definitely a film that will get you talking and give pause for thought. Worthy of a matinee or a rental later, Cold Souls is rated PG-13.
Comments Off

on Cold Souls
Toe Thompson (Jimmy Bennett) leads a normal childhood, braces, bullies at school, and wild imagination. When Toe finds a magical wishing stone, his life goes from ordinary to extraordinary. But, as wishes are made, nothing ever seems to go right and the dark side to the wishing stone becomes more apparent. Realizing this, Toe and his friends Nose (Jake Short) and Loogie (Trevor Gagnon) set out to get rid of the stone. But will the boys be able to get rid of the stone before Toe's parents (Leslie Mann and Jon Cryer) and the nefarious Mr. Black (James Spader) take possession of the stone instead?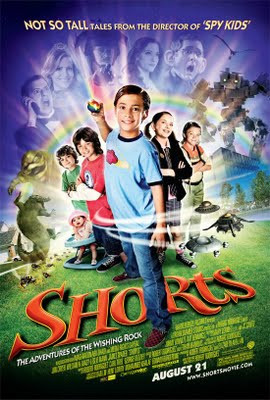 Told in a series of short films all stitched together in a youthful grindhouse fashion, Writer/Director Robert Rodriguez brings his quirky sensibility to the table once again but doesn't stretch his abilities. Specifically the script could have been a little richer in content and the humor could have been tiered a little better for adults; however, Rodriguez knows his child audience and mixes a fair amount of slapstick with Saturday morning cartoon flavour to provide a cute film. Not too surprising the child actors in this film are clearly still developing their sense of comedic timing and delivery whereas the adults all seem to perform at a higher caliber. A film for the family that has its moments but probably best as a rental later. Shorts is rated PG.