Archive for August, 2009
Roughly 20 years ago an alien invasion occurred in Johannesburg South Africa. An alien ship came to rest over earth. Nothing happened. The ship appeared to be parked with no signs of life, it just hovered. Months later a team of humans cut into the ship to investigate further only to discover a race of malnourished and sick working caste aliens. With no leadership present, perhaps due to plague, the aliens or "prawns" were moved to earth to live in a government camp known as District 9. Present day, the prawns are about to be moved to a new camp further from humans but troubles arise when Wikus Van De Merwe (Sharlto Copley), a sympathetic human, comes in contact with alien biotechnology.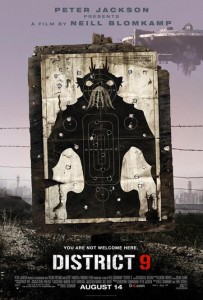 Brilliant, and impressive in all factors that matter: writing, acting, cinematography, and special effects. District 9 achieves what all sci fi films strive for in its deceptive simplicity– believability rich with allegory. Despite the fact that most films released in August are often considered bottom of the barrel or second rate, this is one not to be missed. Worth seeing in the theatres, District 9 is rated R.
Comments Off

on District 9
Don "The Goods" Ready (Jeremy Piven), a born salesman, and his sales team are vigilante sales people, called in to assist in the liquidation of a failing auto lot. But will the crazy antics and high pressure sales techniques this team brings to the table be enough to save the family business of Ben Selleck (James Brolin)? And, will Don ever heal from the loss he experienced in Albuquerque?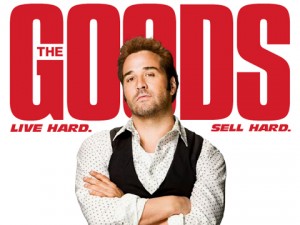 Fast talking and sometimes crude humor is the name of the game in this tongue in cheek look at the auto industry in small town America. While not really reaching the highest highs of comedy this summer, one could certainly do a lot worse. Performances from Ed Helms, Ving Rhames, and David Koechner don't hurt either, in fact, the star power of this film is surprisingly high, including a brief appearances of Will Farrell and Alan Thicke. Maybe a matinee but more likely a rental, The Goods is rated R.
Comments Off

on The Goods: Live Hard, Sell Hard
When Beth Buchwald (Rose Byrne) moves into a new apartment she takes interest in her odd but interesting neighbor Adam (Hugh Dancy). As the two begin to orbit each other it becomes apparent to Beth that Adam is quite different than other men, almost aloof, and difficult to grasp. Intrigued, she pushes forward and discovers Adam has Aspberger's syndrome, a disability on the scale of Autism. Despite the disability the two begin a relationship, challenging and learning from each other, but how will the two manage when Adam is forced to move across the country for work?
Adam is the second film written by writer and director Max Mayer and at times does feel a little clunky in it's message delivery despite Mayer's best intentions. Fortunately, Dancy and Byrne address their roles artfully, lending to an emotional experience with just enough humor to keep the levity of the film a positive experience. Probably best experienced as a matinee or a rental later, Adam is rated PG-13.