Archive for February 14th, 2013
Running from an abusive home life, the delicate damsel Katie (Julianne Hough), finds herself in the tiny bus stop known as South Port North Carolina. In South Port Katie finds a new home, a new job, and, a new love—Alex (Josh Duhamel). Yet, adjusting to Southern charm and hospitality seems to be a bit of challenge. With the help of Alex and her new friend, Jo (Cobie Smulders), Katie seems to find a way to see through the darkness, until her Ex (David Lyons) turns up with a vendetta. Facing her dark past could mean losing everything, how to persist and prevail?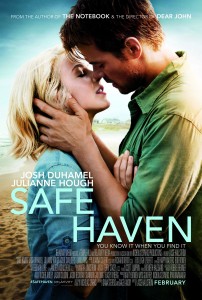 Based on a Nicholas Sparks novel one might expect a sappy romance cut and dry, and you do get that; but, there's more going on here than one might give credit at the onset. Admittedly, the unpeeling of the onion suspense is contrived, and the basic instinct/fatal attraction nutty ex concept is a little played out, but chemistry between Duhamel and Hough feels right. And, to the credit of director Lasse Hallstrom, heartstrings are indeed tugged "just right" as evidenced by the piles of tissues being swept up by ushers in the theatre as this critic was leaving. Bottom line, taking your significant other to see this for Valentine's day might just be a good move…translation, guys, suck it up and see this with your significant other, thank me later. Safe Harbor is rated PG-13.
Comments Off

on Safe Haven
Aging detective John McClane (Bruce Willis) is faced with the challenge of helping his estranged son, Jack (Jai Courtney), a rough and tumble type who's just been picked up for murder of a political figure in Russia. As it turns out, Jack is actually a C.I.A. agent working undercover to rescue a former Uranium thief, Komarov (Sebastian Koch). As father and son reunite chaos ensues, things blow up, and the double crossing begins. Staying alive, stopping the bad guys, and saving the day must commence, easier said than done.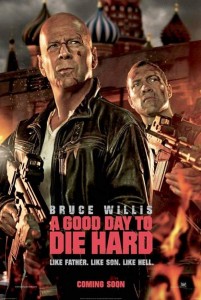 Completely ridiculous in its premise, predictable in its twists; and, even more over the top in the thrills, chills, and spills department. So basically, what was never a believable franchise just got even harder to believe. Have we as an audience really gotten so desensitized to a good ole car chase that action has to be ramped up to such derisory proportions? Tough to say. What can be said is that overly sentimental scenes between Willis and Courtney are uncomfortably sappy, and dialogue otherwise is so skull jarringly bad, the prognosis doesn't look good for this patient—Die Hard is D.O.A.? But hey, big explosions, big guns, and big stunts sure do give it that half witted college try. A Good Day to Die Hard is rated R.
Comments Off

on A Good Day to Die Hard