Archive for August, 2014
Two friends/actors/entertainers from the UK (Steve Coogan and Rob Brydon) set out on Italian adventure to wine, dine, and write a review of their travels. Featuring the foods and settings of Liguria, Tuscany, Rome, Amalfi and Capri the two riff on the meaning of their own existence, literary and artistic influences, and the overall splendor of Italy.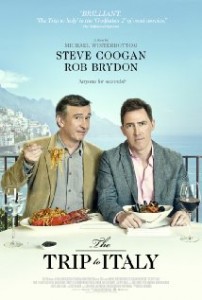 Loosely written and directed by Michael Winterbottom, this quasi documentary/caricature/improv exercise is about the journey of life more than any one story in particular and comes across as a series of related scenes or snapshots inside the actors relationship but has no complete story arc per-say. But, where Trip to Italy excels, is the razor sharp wit, comedy, impersonations, and general fun of it's two main characters, with dialogue so fast and interesting you almost need a pause button to catch everything; it's ultimately the charisma and genuine nature of Coogan and Brydon that makes this gem stand out above the rest. The cinematic beauty of Italian cooking at it's finest also comes across in colorful detail; full warning, if you go hungry to this film, plan on an expensive meal after, the palate is about to be tempted. Fun for the cinephiles of the world, matinee or full price, this 108 minute adventure makes for a sweet escape. The Trip to Italy is not yet rated.
Comments Off

on The Trip to Italy
Digging deeper into the world of Sin City and the creatures that live there we catch up with the emotionally scarred erotic dancer Nancy (Jessica Alba), her protector, 300 pounds of iron man, Marv (Mickey Rourke), the corrupt and evil Senator Roark (Powers Boothe), pro-gambler and wise guy Johnny (Joseph Gordon-Levitt), monster detective (Josh Brolin) and his drug, the bewitching Ava (Eva Green). In a city full of beggars, thieves, wild gangs, crooked cops, and lawyers, who'll make it out alive and where will their paths cross?
Not necessarily a prequel or a sequel to 2005's Sin City, this installation of the franchise continues as an extension of the brainchild of Frank Miller and Robert Rodriguez telling several stories, sometimes overlapping, with the same artistic palate and vision audiences are already familiar with. But, in a modern world where motion capture and green screen technology is available on your home computer, Rodriguez and Miller don't exactly break new ground with their technical accomplishments this go round, and despite the use of 3D cameras, the duo come up short on their deployment of the same tech. If there's one film this summer that could possibly exploit 3D to the fullest this would be it; but, the directors apparently have other plans, hmpfh. And, while not all of the vignette/stories are meaty with substance or reason to care for our characters, when the film succeeds, it truly soars, and even offers up a few dark laughs along the way.Pulpy fun, perhaps in need of a little more trimming. Sin City: A Dame to Kill For is rated R, for obvious reasons….
Comments Off

on Sin City: A Dame to Kill For
A wildly talented teen cellist, Mia (Chloe Grace Moretz), is forced to reflect upon her life, love's, and family after a tragic car accident leaves her comatose and out of body. Looking down on her life, bittersweet memories are mixed with all of the things she has yet to achieve, schooling at Juilliard and true love from her beau Adam (Jamie Blackley). Now the question is, should she stay or should she walk into the light?
Based on the novel by Gayle Forman, the overall story flashes between past and present to reveal a handful of real world teen phobias in this accelerated coming of age tale. Meanwhile the film's self empowerment and self love message remains constant and positive despite the otherwise contrived and convenient plot line, purposely trying to tug the heart strings are we? Acting from the ensemble feels about on par although a bit more attention to the "live music" scenes is probably in order, it's always hard to portray an honest musical performance for film right? Teen romance fans, this Bud's for you. The rest? Mmmmm, probably pass for now. If I Stay is rated PG-13.
Comments Off

on If I Stay