Archive for October, 2014
Disconnected from his moral compass, a desperate and driven man, Louis Bloom (Jake Gyllenhaal), falls into the thrilling career of a television stringer/videographer, also known as a nightcrawler. Able to compose heart wrenching images and crossing the lines of ethical journalism Louis becomes a favorite source for KWLA News Director Nina (Rene Russo). But about those ethics, how far is too far for the sake of a story, who's at risk, and what exactly is it that's driving Louis?
Twisting one part online business degree, one part book on tape, and one part Tony Robbins motivational speech, Writer/Director Dan Gilroy has crafted a truly disturbing lead character who can also be read somewhere on the autistic scale in a dramatic thriller. And, intentionally poking television news in the eye with an equally disturbing and satirical outlook on the industry, one begins to wonder what is it in our society that legitimizes the public's thirst for blood and gore– it would appear we have ourselves to blame. Nothing shy of another stellar performance, Gyllenhaal's interpretation of his character stands out as one of this year's indelible marks on the viewer's psyche, almost parasitic and under the skin, his haunting eyes and plasticized smile will be hard to wipe clean. Just in time to get your creepy on for Halloween and deserving of your attention, Nightcrawler is rated R.
Comments Off

on Nightcrawler
Striving to make something of his acting career years after playing the iconic superhero Birdman, Riggan (Michael Keaton) is looking to prove his worth and abilities to the world by adapting, directing, and starring in a production of What We Talk About When We Talk About Love on Broadway. And, adding to the stress of any typical theatrical production, Riggan is also faced with the stresses of a daughter fresh out of rehab (Emma Stone), a Producer ready to burst (Zach Galifianakis), actresses on the brink (Naomi Watts and Andrea Riseborough), and last minute addition and wildcard heavyweight Mike Shiner (Edward Norton). This could be Riggan's undoing as the show preps to open, How will the critics take to this Masterpiece, and what of the voice inside his head that just won't quit?
Directed by Alejandro González Iñárritu, this wildly creative, imaginative, and otherworldly experience brings the viewer remarkably close to the insanity of the acting world in a way that can only be best described as "an experience." One part magic, dashed with raw truth and creativity, hit squarely between the eyes of what appears to be a cinematic impossibility– the entire film is designed to appear as one continuous shot, a testament to the acting chops of the ensemble. And, for Keaton, a certain sense of what could be a parallel between his character and real life but is more likely an amazing shade of irony. With subtexts and subplots stacked heavily on top of each other, the richness of this work of art sits with you like a satisfying meal, digest slowly. This is a must see, no if ands or buts, GO! Birdman is rated R
Comments Off

on Birdman (The Unexpected Virture of Ignorance)
Years since retiring from the criminal world in hopes of starting a normal life assassin John Wick (Keanu Reeves) is pulled back into the fold on personal business. Affronted by his former employer and employer's son (Michael Nyqvist and Alfie Allen) John's inner monster is awoken to unleash retribution as only the world's toughest hit man can. But friends can be foes in this game of cat and mouse, what of colleagues Marcus (Willem Dafoe) and Ms. Perkins (Adrianne Palicki), and what about the code that all reapers are bound to live by?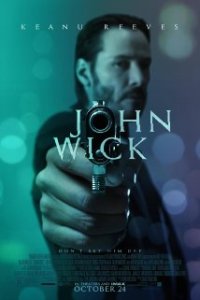 Drawing loosely on ideas of Greek mythology Writer Derek Kolstad and Directors David Leitch and Chad Stahelski have painted the dark and hyper-violent world of death bringers in an oddly seductive and alluring way– bringing all the action and suspense audiences should expect, and then tipping the scales even a little more. Albeit, dialogue throughout is a bit thin and accompanying subtitles are goofy, but let's face it, we're not here to listen to Homer, we're here to watch bullets fly, cars crash, and things explode, check, check, and check. Stylized action, that swings right in Reeves's wheelhouse delivering a ridiculously high body count, you know exactly what you're getting. And, from what we're left with, perhaps a franchise? Worth your action dollar, John Wick is rated R.
Comments Off

on John Wick